HOUSTON, Texas -- In 2022, there were a record 66 carbon capture project announcements in North America spanning a variety of industries and geographies. With emerging carbon hubs across North America, the announced projects are concentrated in areas of industrial emitters with access to geologic carbon storage. These carbon storage hubs account for about 30% of the 2022 announced projects.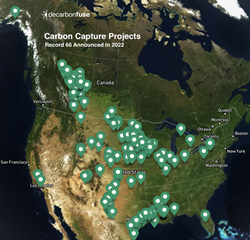 The 66 project announcements include three types of carbon capture:
Carbon capture, utilization, and storage (CCUS) from point source emitters
Direct air capture (DAC) facilities
Bioenergy with carbon capture and storage (BECCS) facilities
In the United States, the passing of the Inflation Reduction Act in 2022 increased the 45Q tax credit amounts for direct air capture, carbon sequestration, and enhanced oil recovery. The increased tax credits make more ethanol, ammonia, fertilizer, natural gas, cement, and steel projects economic to develop. These industries account for about 40% of the announced projects in 2022.
Canada's carbon tax is influencing industrial companies along with oil & gas firms to evaluate emissions reductions and carbon removal technologies. The carbon tax increases from CA$65 per ton of CO2 today to CA$170 per ton of CO2 in 2030. Public and private partnerships are evaluating carbon storage hubs in Alberta and Saskatchewan as companies anticipate point source carbon capture at local facilities.
Today there are 155 active projects in North America according to Decarbonfuse ProjectDB. With daily updates and monitoring of news, regulatory, and social media, ProjectDB provides a single source for projects including capital expenses, operating expenses, industry, and CO2 source used on the project.
With 45Q in place in the US and a carbon tax in Canada, there are incentives and consequences to pushing these projects off to a later date.
A Robust Project Pipeline Across North America
This robust project pipeline will require about $33 billion in capital to develop the greenfield and retrofit carbon capture projects over the next three to four years.
"We anticipate 2023 spending to reach $13 Billion in carbon capture. The players in the market are working through the financial and operational risks associated with the carbon capture projects. Not every single project will move forward but there is significant momentum to demonstrate the economic, environmental, and social results to the investors" said Todd Bush, Managing Director at Decarbonfuse.
Numerous hubs are forming in North America to support the project pipeline. In the Midwest United States, project developers are creating CO2 pipeline infrastructure to support the capture and transportation from ethanol facilities throughout the midwest states. In Alberta, infrastructure and carbon storage evaluations are underway to determine the feasibility, costs, and business models for sequestering CO2 near the industrial centers of Canada. Along the Gulf Coast of the United States, companies are forming joint ventures among emitters, CO2 pipelines, and owners of pore space rights to prepare for large sequestration projects that expect to store one to five million tons per year of CO2.
Policy and technology considerations are in place to move towards engineering and design of the carbon capture projects. Final investment decisions will dictate if each one of these projects move forward.
About Decarbonfuse
Decarbonfuse.com is the resource for thousands of professionals solving industrial decarbonization through hydrogen, carbon capture, carbon removal, and electrification. Follow the money flow of climate, technology, and energy investments to uncover new opportunities. Our mission is to bring together decarbonization data and news across industries so that our audience can make informed and sustainable decisions. Read more at https://decarbonfuse.com
Contact
Pooja Dohle
[email protected]