Decarbon Daily - $10B Reasons for Wind Energy
Inside this issue
Offshore Wind: Infrastructure Capex Growth
The Biden Administration announced a governmentwide effort to deploy 30 gigawatts of offshore wind energy by 2030. Reaching this goal of 30 GW would become approximately 25% of total U.S. wind electricity generating capacity. A considerable amount of capital must be deployed to reach these goals.
Not surprisingly, the capital expenditures ("capex") are the single largest contributor to life cycle costs for offshore wind energy. The permitting, planning, construction, transmission, and deployment of the offshore facility must be in place before the wind facility generates energy and revenue. According to the US Offshore Wind Market Report, global wind energy data suggests capex will decline from $4,000/kW to $3,000/kW by the mid-2020s.
Concerns about Costs
However, costs and project volatility remain a concern. In 2020, the lowest project capex was near $2,000/kW while the high was $6,000/kW, yet in 2021 the range expands from $1,100/kW to $7,500/kW. Although this expands into announced or under construction projects, there remains significant range of capex for the offshore wind projects.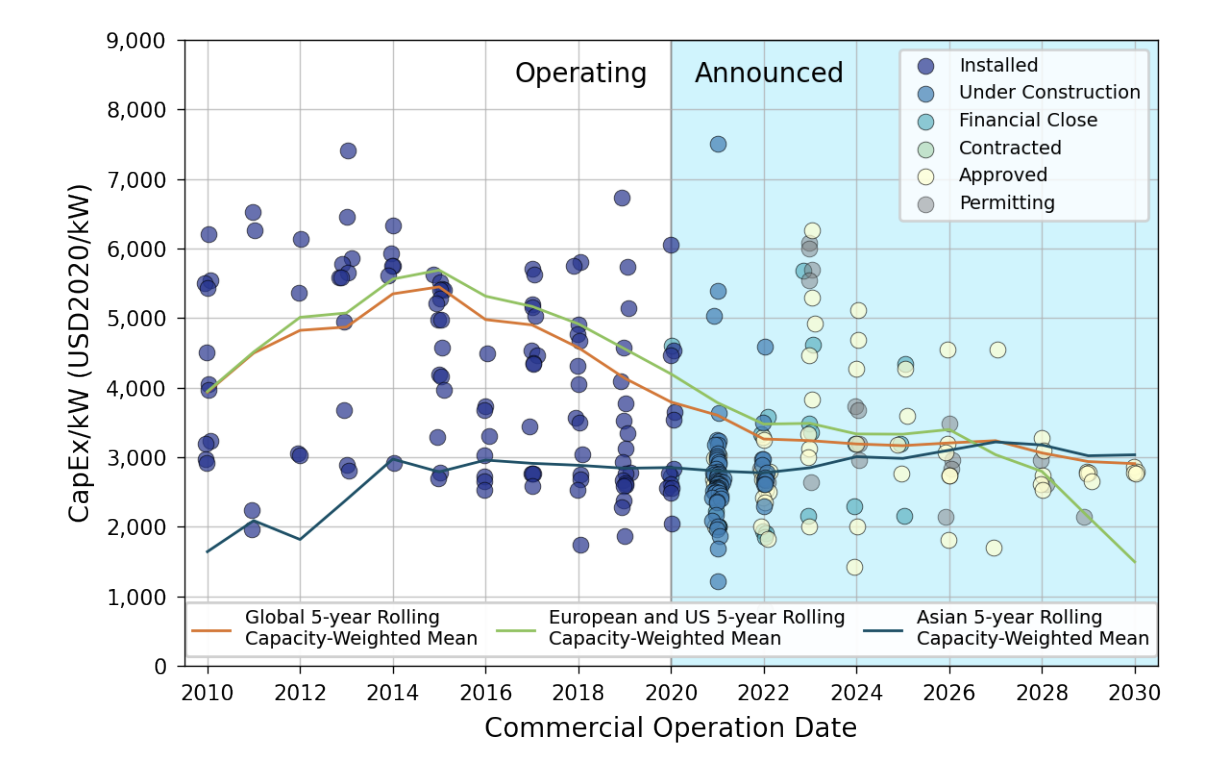 Source: US DOE Market Report, 2021
Based on the current project data, the US offshore wind market will require investments of nearly $10 billion per year to reach the goal of 30 GW capacity by 2030. According to Rystad Energy, the offshore wind market will approach the levels of investment in offshore oil & gas.
To date, no projects in federal waters are commercial yet. Even though there are pilot projects off the Virginia coast, no projects have progressed to the point of electricity generation.
Inside this Issue
🛢 US Shale Gas Could Become 'Biggest Green Initiative on Planet,' EQT CEO Says
💰 OneTrust Acquires Climate Action and Carbon Management Platform Planetly
♻️ Intercontinental Exchange (ICE) Acquires risQ and Level 11 Analytics
🔋 Battery Ventures Acquires Analytical-Instrumentation Pioneer LI-COR Biosciences
👩🏼‍🔬 ExxonMobil Acquires Materia, Inc., a High-Performance Structural Polymers Company
💨 AES acquires 612MW New York onshore wind portfolio from Carlyle Group
Articles in this issue