BREAKING: Navigator CO2 Cancels Pipeline Project
Inside this issue
Since 2021, Decarbonfuse has covered Navigator CO2's ambitious Heartland Greenway project. The project covered thousands of miles across the Midwest US connecting ethanol plants and fertilizer plants across five states to potential carbon storage.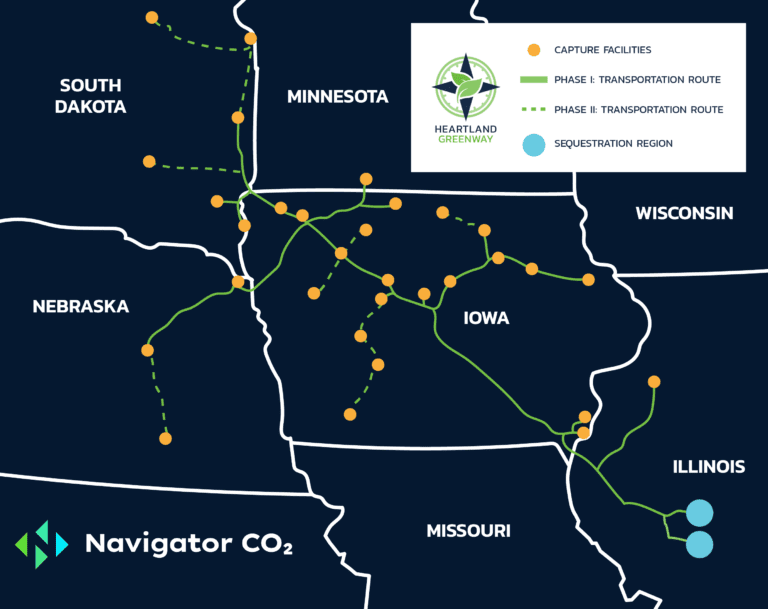 For ethanal producers, carbon capture is the largest step the producer can take to lower emissions. The lower emissions result in a reduce carbon intensity (CI) score.
Today, Navigator CO2 announced that the project is cancelled.
Matt Vining, CEO of Navigator CO2 remarked, "As good stewards of capital and responsible managers of people, we have made the difficult decision to cancel the Heartland Greenway project. We are disappointed that we will not be able to provide services to our customers and thank them for their continued support."
Earlier this year, Navigator CO2 expanded the Heartland Greenway pipeline project to connect to carbon sequestration opportunities in Illinois.
Stay tuned as we learn more about the Navigator story.
Inside this Issue
⚙️ Air Liquide Is a Partner in Six out of Seven Hydrogen Hubs Announced by the DOE in the U.S.
🌬️ Technological Advancements and Larger Turbines Transform the Wind Turbine Market: Green Hydrogen Production on the Rise
⛽ FirstElement Fuel Expands its True Zero Hydrogen Refueling Network as it Opens its 41st Station in Oakland, California
🔌 Duke Energy's 2023 Site Readiness Program Helps Prepare Business, Industrial Sites in an Effort to Spark Economic Growth in Florida
🚚 SoCalGas Joins Center for Transportation and the Environment to Reduce Emissions with Innovative Hydrogen Fuel Cell Electric Delivery Vans
🚢 Evergreen and CIP Team Up to Explore Green Shipping Fuels
⛔️ Heartland Greenway Project Update
Articles in this issue