Decarbon Daily - Getting CCUS Projects to Operating
Inside this issue
Operationalizing Carbon Capture Projects
The IEA released data last week demonstrating the global momentum for carbon capture, utilization, and storage projects.
According to the IEA carbon capture project data:
Early and Announced projects increased ~210% in 2021 (97) from 2020 (38)
Advanced Development project increased ~150% in 2021 (66) from 2020 (21)
Under Construction increased from 3 to 5 in 2021
Operating commercial CCUS facilities remained unchanged at 27 facilities
However, since 2018, operating CCUS facilities remained constant at 27. Major capital projects take a tremendous amount of resources, time, and capital to build out. Engineering procurement and construction or "EPC" are referenced often for large-scale infrastructure projects.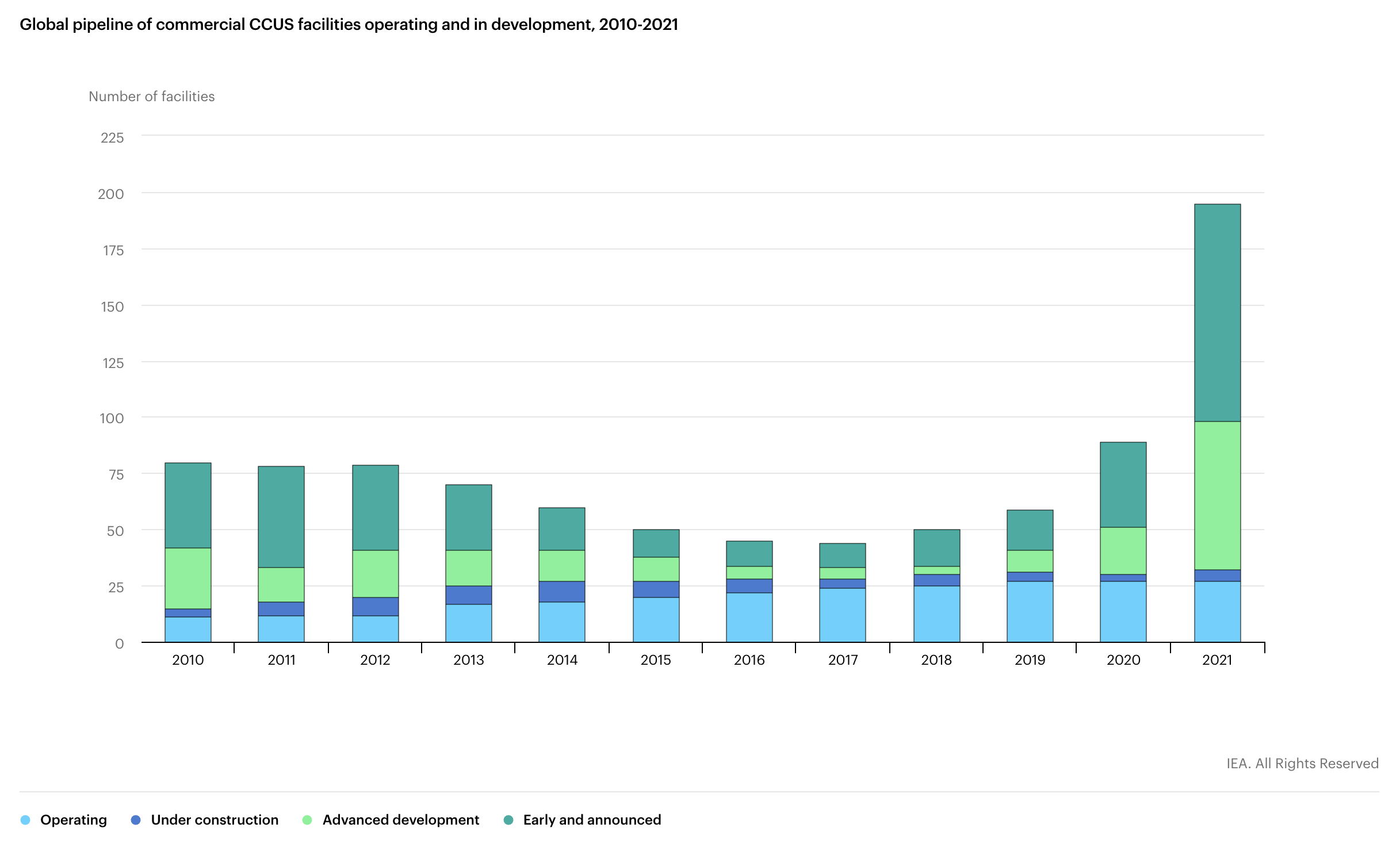 Many capital projects do not make it past the Final Investment Decision or "FID" which is when contracts are signed, orders are placed, and financial commitments made. Announcements are good indicators of potential projects but financial commitments must be made to break-ground.
the growing interest in producing low-carbon hydrogen has resulted in almost 50 facilities under development to capture CO2 from hydrogen-related processes. This includes an October 2021 announcement by Air Products that it would build the world's largest CCUS-equipped hydrogen production facility in Louisiana, capturing and storing more than 5 MtCO2 per year. Source: IEA
The link between hydrogen and CCUS projects is strong as companies find new ways to utilize the CO2.
Last month, the Global CCS Institute published a similar chart that shows total capacity of CCS facilities across different stages of development.
Global capacity of CCUS facilities looks very similar to the IEA chart.
Will the investment environment improve for CCUS projects? IEA and others are pointing to the growing interest from companies that need to meet their corporate climate targets. Direct air capture technology along with other technology are shaping climate goals for many public companies. However, the CCUS industry must build-out the infrastructure needed to capture and sequester CO2.
Unfortunately, this is not a technology adoption challenge. It is an infrastructure build-out for an entire new sector of industry. Collectively, do investors, companies, and people have the patience and capital to reach the ~150 Mtpa CO2 when globally we have only 40 Mtpa CO2 operational today?
Inside this Issue
💸 Energy Dome Closes $11 Million Series A Funding, Advances First Commercial Deployment of Low-Cost, Long Duration CO2 Battery
💰 mCloud Closes Over-Allotment Option for Underwritten Public Offering
☀️ Koch Engineered Solutions Acquires DEPCOM Power to Build New Industry Platform In Renewables And Electrical Infrastructure Value Chain
🙋 Elon Musk has strong views on hydrogen. Not everyone agrees
Articles in this issue