Decarbon Daily - Halliburton Labs, e-frac, & ESG Bubble
Inside this issue
Halliburton Advancing Low-Carbon Investments
Halliburton reported Q3'21 results this week and the company delivered positive financial news across all business segments. The results, so far, are better than the company expected one or two quarters ago. **Halliburton is in unique position to capitalize on the rising commodity prices through existing operator relationships, deploying new technology, and investing in low-carbon energy technologies.
In North America land, the company continues to advance their supply chain and logistics capabilities. Industry insiders know the company has been working closely with Vorta.ai (formerly known as ShaleApps) for a number of years.
According to Jeff Miller, Halliburton CEO:
We expanded our collaboration with Vorto, an artificial intelligence supply chain platform. Our early adoption of Vorto's platform that connects drivers, asset owners, and maintenance yards, allows us to effectively manage trucking inflation and availability constraints.
Halliburton is electrifying the company's hydraulic frac fleet. The company anticipates adding or reactivating around 20 frac fleets taking the total active to 100. With a total cost of $55-65 million for e-fracs, Halliburton will likely add a couple of e-frac fleets along with new conventional or hybrid fleets. Reducing emissions and demonstrating a sustainable frac program is critical for oil & gas operators now to show ESG results.
We deployed our electric fracturing spread with electric blending, wireline and ancillary equipment and an advanced power generation system from VoltaGrid. This high-performing solution reduced Chesapeake's emission using over 25 megawatts of lower-carbon power generation from Chesapeake's local field gas.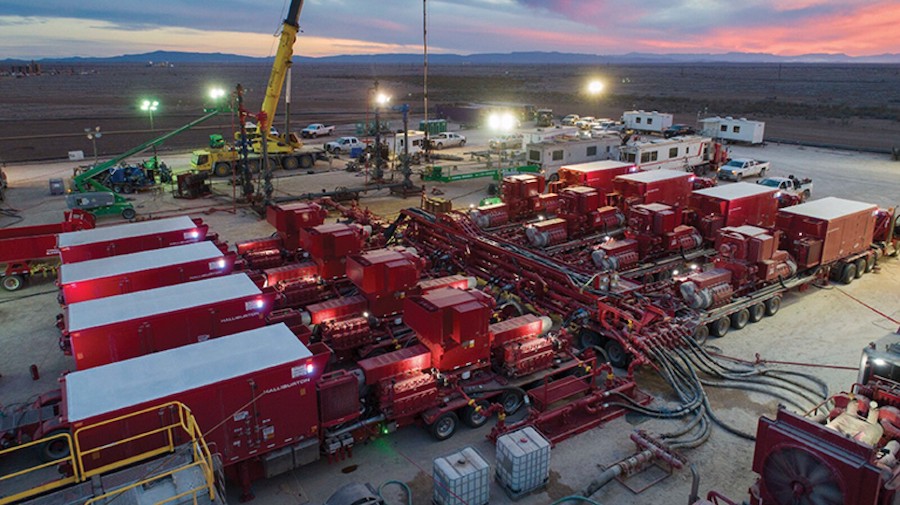 Halliburton Labs Adds Cleantech Start-ups
Halliburton Labs was launched to help entrepreneurs scale their business with corporate and capital partners.
We are also advancing renewable energy solutions through Halliburton Labs, our clean energy accelerator. In the third quarter, we doubled our size by increasing the number of Halliburton Labs companies from four to eight, welcoming Alumina Energy from California, Ionada from Ontario and Parasanti and SurgePower Materials from Texas.

The Halliburton Labs participants are achieving results. Enexor Bioenergy completed a $10 million Series A round of financing. Enexor's patented modular system uses locally sourced organic or plastic waste to generate clean on-site energy..
Halliburton Labs submission window is open now through the end of the year. In January 2022, the accelerator will announce the spring cohort.
Inside this Issue
🤑 ESG will create financial bubbles just like crypto, banking body CEO says
🔥 With Biden's Climate Plan in Jeopardy, Can America Lead on Climate Change?
🛢 Big Oil Courts U.S. Clean-energy Startups in Bid to Speed Green Transition
🔌 What's Happening With EV Charging Infrastructure In The USA?
Articles in this issue