Decarbon Daily - How Does Energy Flow Across Sectors?
Inside this issue
And we are back. For everyone in the US, I hope you had a wonderful Thanksgiving with family and friends. I took some downtime to reflect on what is working and how that will shape 2022 plans. I have some deep-dive research on the schedule along with a SaaS data project I'm building behind the scenes. I'll be sharing more in the coming weeks! ~Todd
How Does Energy Flow Across Sectors?
Energy Consumption by Source and Sector
Each month, the EIA produces energy source and sector data to understand where energy is flowing across the industry in the Monthly Energy Review.
Petroleum and natural gas account for nearly 70% of the source based on the November 2021 data. The remaining energy sources include renewables for 12%, coal 10%, and nuclear 9% rounds out the energy sources.
Industrial and transportation are the largest end-use sectors, accounting for 71% of the usage. The remaining use is from residential (17%) and commercial usage (12%).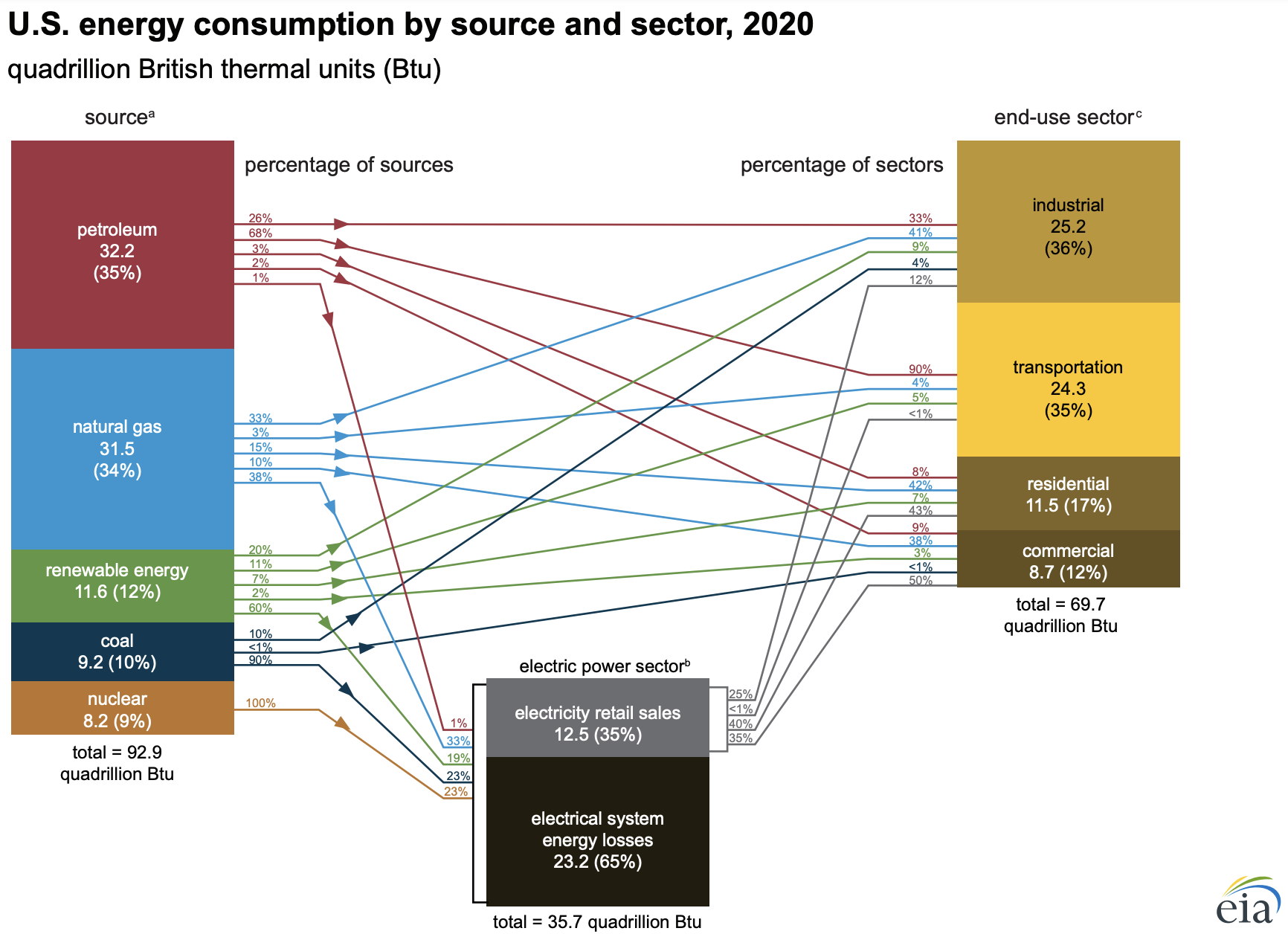 Source: EIA
With the passing of the Infrastructure Investment and Jobs Act, expect energy sources to increase as the country rolls out an aggressive EV charging station program, improved roads & bridges, and enhanced energy security provisions for pipelines and critical infrastructure. Very little in the Infrastructure Act is devoted to reduce the country's total energy requirements.
Energy producers are making moves. Over the last several months, numerous renewables firms have made acquisitions to grow their companies renewable asset base. EIA projects solar generation to increase from 3% of electricity generation in 2020 to 5% in 2022 (and 14% in 2035). Even though it took the US almost 10 years to reach 3% solar generation, EIA is forecasting solar generation to nearly double in two years.
Consolidation is occurring in oil & natural gas as well. Investors expect oil and gas companies to maintain capital discipline and prioritize cash flow to investors over any production growth or enhancements. Companies are aiming to achieve scale in their oil and gas product mix; however, the R&D budgets will likely be focused on hydrogen, carbon capture, and other low-carbon technologies. Coal and nuclear producers face incredible headwinds due to federal, state, and local policies and regulation.
I'm bullish on the energy producers for an 'all of the above strategy' across all energy sources.
In 2020, end-use was dominated by industrial at 36% and transportation 35% of energy consumption. Residential consumed about 17% of the energy and commercial consumed 12%.
Natural gas is powering the industrial energy requirements. About 1/3 of the natural gas produced is powering 41% of the industrial energy end-use.
What did it look like 5 years ago?
In 2016, the energy source and sector usage looked quite similar, with a few highlights:
Renewables and natural gas gain ground while petroleum and coal lost share as energy sources
Industrial increased consumption by ~18% while transportation decreased by ~13%
Residential and commercial end-use increased by ~90%
Total energy consumption (in quadrillion Btu) increased by ~8%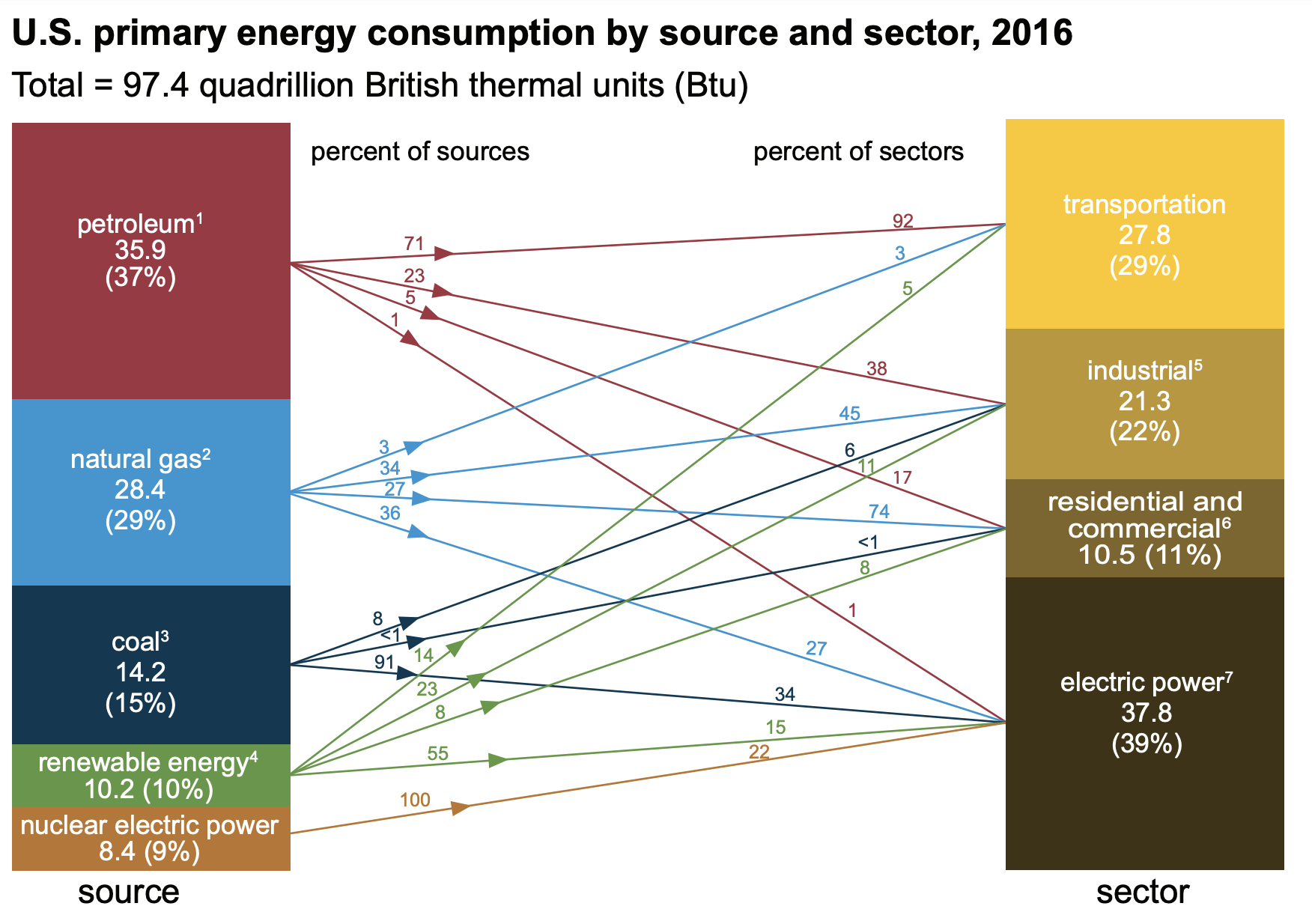 Note: A bit of caveat with 2020. Due to the pandemic, it may be difficult to use 2020 as a comparison year. There were many anomalies in 2020 but energy demand recovered in the second half of 2020 and through 2021. Energy source and sector usage still applies, even in turbulent times.
Inside this Issue
🌾 What We know About Two Carbon Capture Pipelines Proposed in Iowa
💰 Lucent BioSciences Receives $4.2M Investment to Bring Carbon-neutral Fertilizers to Market
💸 SG Solar Energy Firm Recharges with $25m Series A Fundraise
🔋 Mitra Chem Raises $20 M Series A to Fund Li-ion Battery Materials R&D
💨 Ørsted acquires Lincoln Land Wind in Illinois
📈 Investment Funds Are Pushing EU Carbon Price Higher
Articles in this issue