Decarbon Daily - Hydrogen Highlights
Inside this issue
Hydrogen Highlights from Linde & Air Products
The hydrogen market is rapidly expanding due to new policy efforts in the EU, US, and Middle East. New entrants and established companies are partnering to deliver projects with new technology, transport and storage infrastructure, and hydrogen market access.
Linde Brings Suite of Blue Hydrogen Tech Today
Last month, Sanjiv Lamba the CEO elect of Linde Energy spoke at the Goldman Sachs Carbonomics conference.
We have a hydrogen business today, more than $2 billion. We expect to see that, I'm going to say quadruple, over the next 10 to 15 years. We have a very strong aspirations to move in that direction and we've seen great momentum building up in the broader macro level. Source: Sanjiv Lamba, Goldman Conference
Linde was an early leader in geologic and above ground storage for hydrogen and continues to adopt new technologies and techniques as the market expands. Linde offers a whole suite of technology and product for blue hydrogen.
If you think about blue [hydrogen], any country that today has natural gas resources has the option to look at, indeed, I'd say must look at blue [hydrogen] as the interim solution until we get to a point where you've got green [hydrogen] at scale. Source: Sanjiv Lamba, Goldman Conference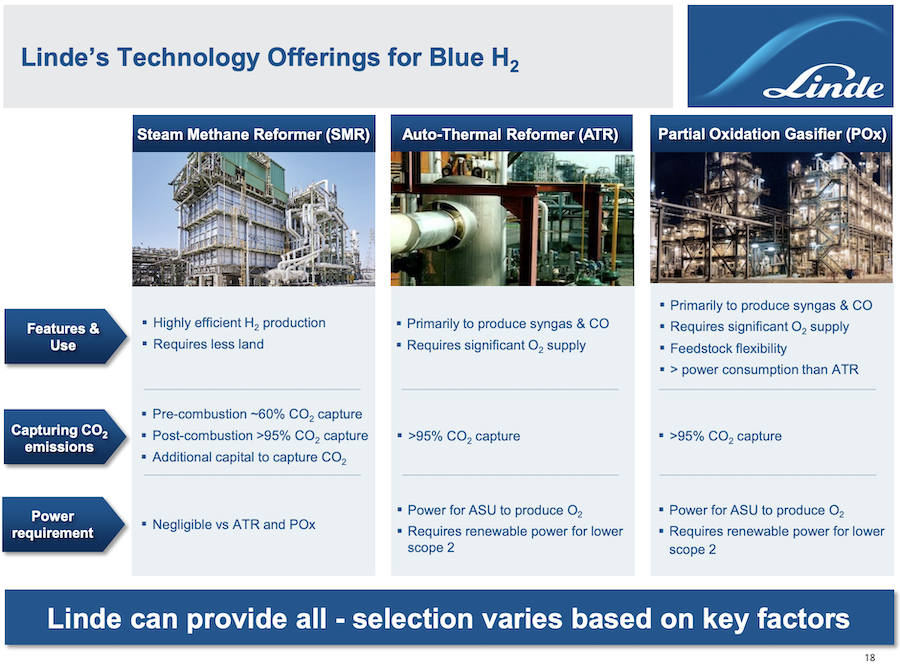 Source: Linde Investor Presentation
Air Products Hydrogen Midstream
Air Products owns and operates over 600 miles of hydrogen pipelines across the Gulf Coast of the US. The company also owns nearly 50 miles of pipeline in Canada.
Transporting hydrogen is a critical component to the hydrogen value chain and Air Products is a clear leader. Much of the infrastructure was developed for gray hydrogen; however, the company is expanding blue hydrogen projects in Canada and Louisiana using existing infrastructure.

Source: Air Products Investor Presentation
Inside this Issue
❇️ Plug Power and Certarus Partner on Green Hydrogen Supply and Expansion of Distribution Infrastructure
💵 One of the Largest Green Hydrogen Projects in the World: thyssenkrupp Signs Contract to Install Over 2GW Electrolysis Plant for Air Products in NEOM
✈️ ZeroAvia Raises Further $35 Million for Zero-Emission Flight Technology, Taking Total Raised to $115 Million
💸 Amazon funds two climate tech firms as third gains ground
🚀 Cargo Control Center Voyager Raises $8.4 Million
💰 Spain to invest 6.9 bln euros in renewables, green hydrogen, energy storage
Articles in this issue