Decarbon Daily - Zero Carbon Polyethylene, Steel, & More
Inside this issue
Zero Carbon Polyethylene for the Win
Dow (NYSE: DOW) announced this week its plan to build the world's first net-zero carbon emissions integrated ethylene cracker and derivatives site with respect to Scope 1 and 2 CO2 emissions. The project decarbonizes 20% of Dow's global ethylene capacity while growing supply.
The project would more than triple Dow's ethylene and polyethylene capacity from its Fort Saskatchewan, Alberta site, while retrofitting the site's existing assets to net-zero carbon emissions.The organic, brownfield investment would significantly increase Dow's capacity of advantaged ethylene, polyethylene and derivatives manufactured across Alberta – all while maintaining Dow's enterprise-level commitment to keep capital expenditures at or below depreciation and amortization (D&A) levels. The Company expects to allocate approximately $1 billion of capex annually – or approximately 1/3 of its D&A levels – to decarbonize its global asset base in a phased, site-by-site approach.
Jim Fitterling, Dow's CEO and Chairman stressed the importance of not relying on a single energy source on CNBC's "Squawk on the Street" segment.
According to Fitterling, the project enables Dow to reduce scope 1 & 2 CO2 by 30% by 2030 and puts the company on a path to net-zero by 2050. 20% of global ethelyne will be zero carbon.
The production process at Fort Saskatchewan will convert cracker off-gas into hydrogen as a clean fuel to be used in the production process, and carbon dioxide that would be captured onsite to be transported and stored by adjacent third-party CO2 infrastructure.
With CO2 infrastructure already in place, the economics are favorable for Dow.
Dow CEO advocates "All of the Above" Energy Strategy
China's coal shortage is pushing natural gas prices higher. Commodity prices are at 5-year and 7-year highs. This year alone natural gas prices are +133%.
Dow's CEO stated that natural gas can fuel the transition to a lower-carbon economy but stressed it is not a "switch" that can just happen.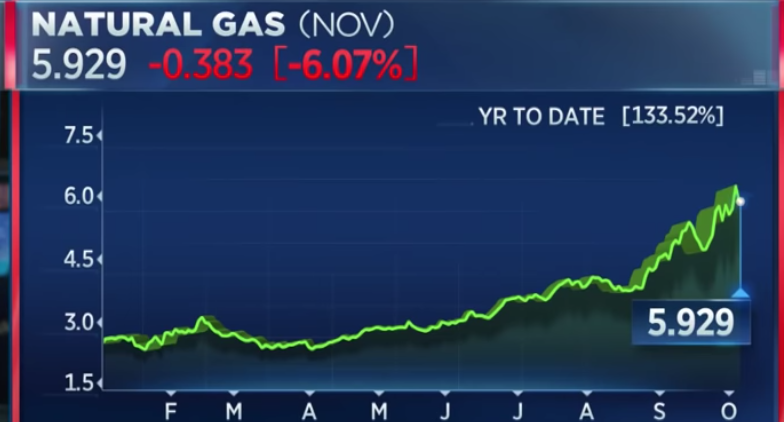 For years, DOW has been focused on the lowest cost plastics. Now, the company is turning focus to the lowest cost and lowest CO2 emissions plastics. Dow's CEO believes Scope 1 and 2 emissions can get to zero but Scope 3 emissions will be a challenge due to transportation.
"Zero carbon polyethelyne for plastics and packaging will be a game winner" said Fitterling, Dow's CEO.
"Alberta's support for circular hydrogen and CO2 infrastructure are essential to enabling us to develop this net-zero carbon emissions manufacturing facility," said Fitterling. "Canada's support for this type of investment can serve as a model for how government investment can encourage the development and accelerate adoption of emissions-avoiding technologies and solutions."
Inside this Issue
💚 Nucor Launches Econiq™ Net-Zero Steel
🚫 Congo's $6 Billion China Mining Deal 'Unconscionable', Says Draft Report
🚚 TruckLabs Raises $15M Series A to Bring Aerodynamic, Fuel-Saving Device to Millions more Trucks
🔌 BP Leads $25 Million Series A Round in EV Ride-hailing and Charging Startup BluSmart
🌍 Riskonnect Acquires ESG Technology Firm ICIX
💨 Fort Worth Company Acquires a Leading Construction Firm in Renewable Energy Industry
Articles in this issue