Industrial Decarbonization Takes Center Stage
Inside this issue
Companies across sectors are taking significant steps to industrial decarbonization through low-carbon investments and early-adoption of lower emissions solutions. Here are three examples in construction materials, utilities, and midstream where low-carbon investments are accelerating.
Cemex: Building a Better Future
Cemex delivers cement, ready mix, and aggregates across the world. With operations in US, Mexico, South America, Europe, and EMEA, the company offers critical products for regional urbanization and growth. Cemex is using it's global position to take advantage of carbon capture pilots, early hydrogen, and electrifying their operations.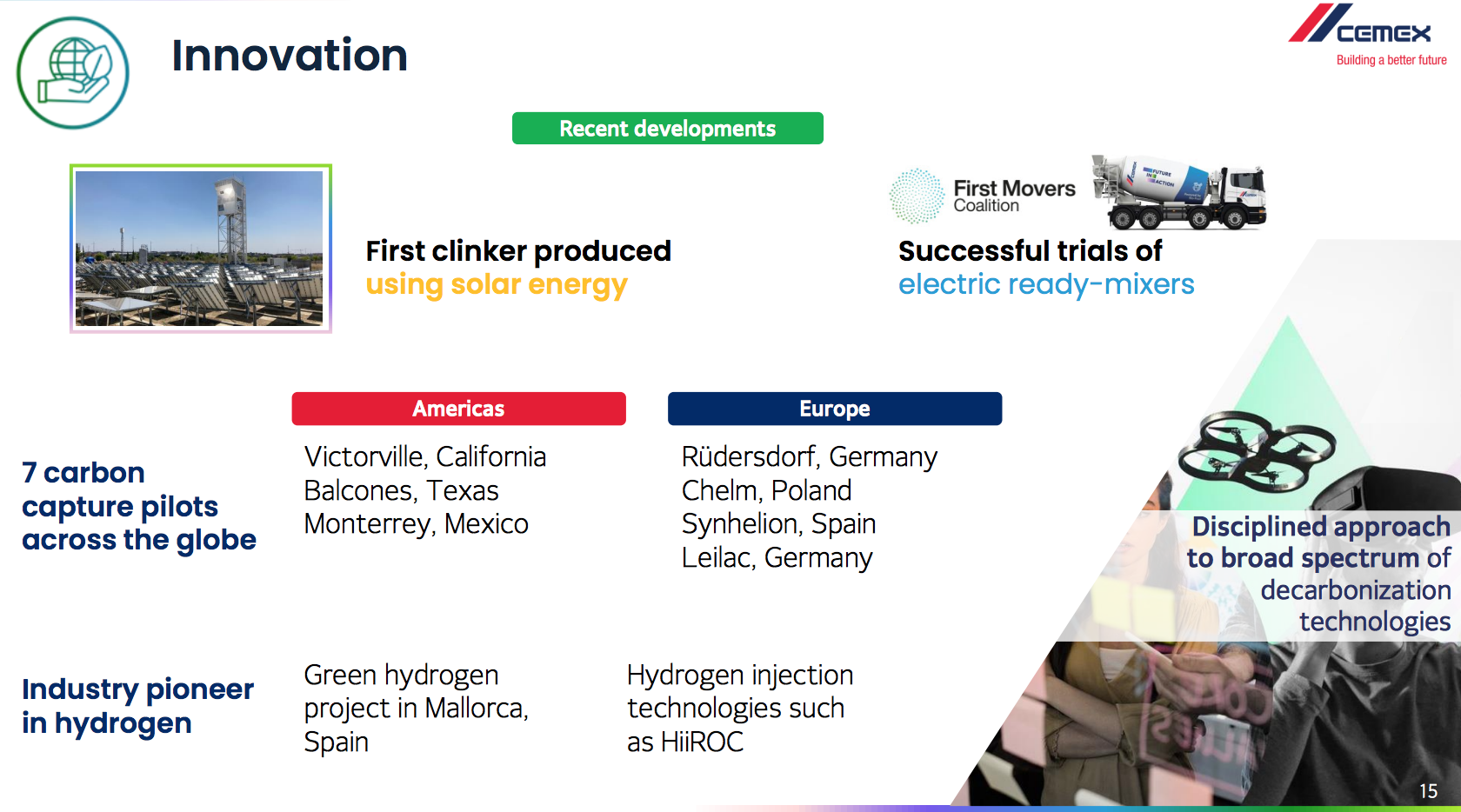 We will continue to build this breakthrough at scale. For the first ever, we are introducing electric vehicles into our ready-mix fleet in three countries. This work is closely aligned to our founding membership in the First Mover Coalition where we have committed to support breakthrough technology in the development of electric heavy-duty truck. As the largest ready-mix cement in the western world, our ability to transition our fleet to electric would be a high event. Fernando Gonzalez, Chief Executive Officer
Dominion Energy: Aggressive Decarbonization
This quarter Dominion Energy illustrated decarbonization investment plans to modernize gas distribution, invest in RNG, upgrade the grid, and deploy capital to zero-carbon generation & energy storage. In total, the company expects to invest $37 billion in the next five years while reducing emissions to meet net-zero goals.
Dominion is a state-regulated operation in Virginia, North Carolina, South Carolina, Ohio, and Utah. Nearly 73% of the investment will be for the generation, energy storage, and customer investments in Virginia.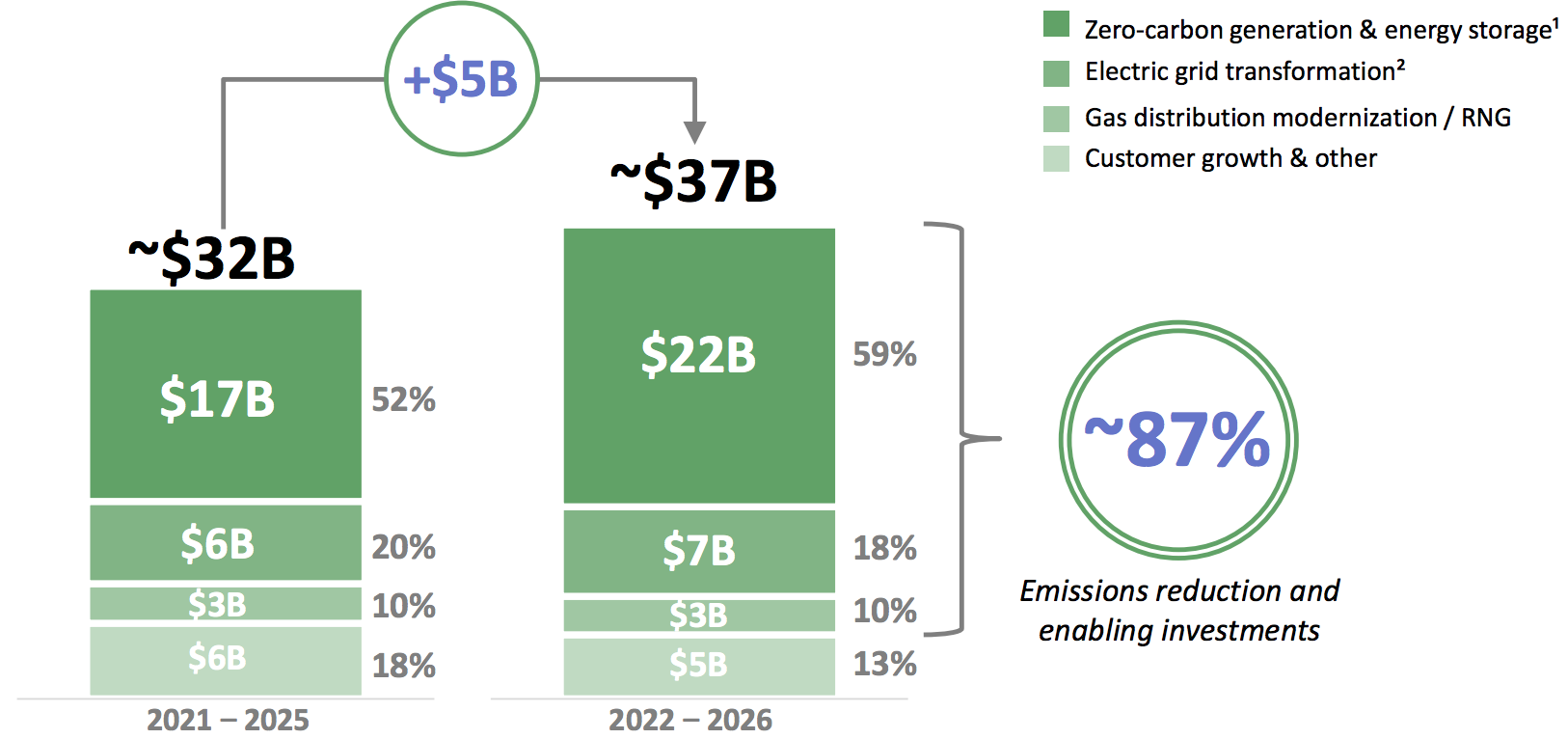 I'm pleased to announce an expansion of our net zero commitments. In addition to our current commitment to achieve enterprisewide net zero scope one carbon and methane emissions by 2050, we now aim to achieve net zero by 2050 for all Scope 2 emissions and for Scope 3 emissions associated with three major sources, LDC customer end-use emissions, upstream fuel, and purchase power. Bob Blue, Chief Executive Officer
Enbridge: Investing in Low-carbon Today
Enbride is a Canadian headquartered midstream energy firm. The company moves about 30% of the crude in North America and 20% of the natural gas in the US. Renewable energy and low-carbon opportunities are at the core of the company's strategy.
Our Wabamun carbon hub development is positioned to capture emissions from a variety of the emission -- emitters. Over 20 megatons per year of CO2 capture potential in the circle that you see on the map. In December, we signed an MOU with Capital Power in last month, another one with Lehigh Cement. Al Monaco, Chief Executive Officer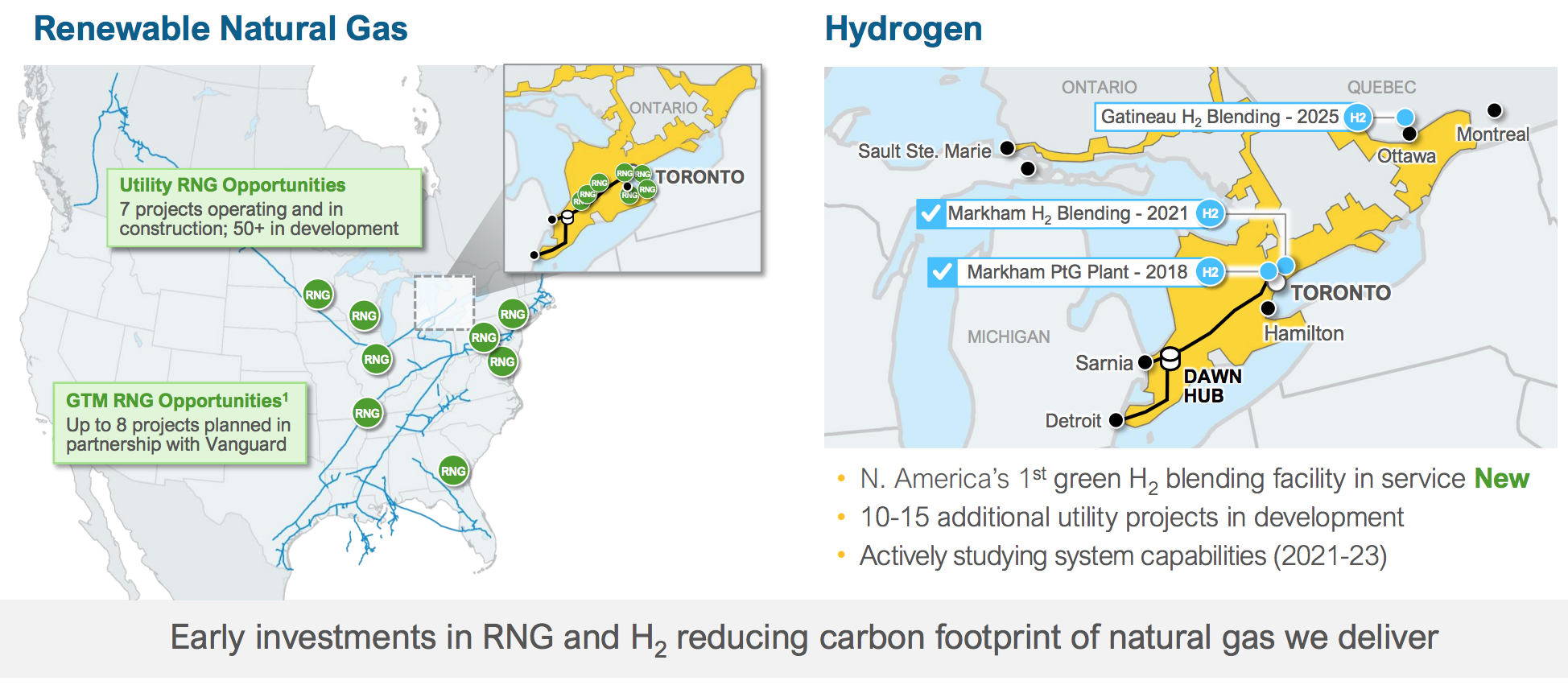 A growing RNG portfolio of projects will help the company meet it's Net-zero goal by 2050.
At the gas utilities, three RNG facilities are operating at foreign construction, and there's over 50 in early stage development. The goal here, by the way, in the utility is 5% of our two Tcf annual send out to be RNG by 2030. In gas transmission, there's eight projects in development and a significant opportunity across the entire map. Hydrogen is at an earlier stage but with probably much larger investment potential longer term. At this point, the key here is to prove out the technology and Markham project, a pilot blending green hydrogen, into our gas network. Al Monaco, CEO
Inside this Issue
♻️ Baker Hughes Acquires Industrial Climate Solutions
🏭 PE-backed Eco Material Technologies acquires Boral Resources and Green Cement
🚦 Jacobs Acquires Mobility Analytics Provider StreetLight Data
🐮 TotalEnergies Takes on 1.5 TWh RNG Production Project with Veolia
Articles in this issue