Decarbon Daily - M&A Trends, Caterpillar, & Energy SPAC
Inside this issue
Optimism in M&A Deal Data
The other week I touched on a few note-worthy M&A deals and IPO data. While IPOs and SPACs are expected to slow, the M&A market is ripe for energy producers and technology firms. I'm bullish for more deals in 2021 and early 2022. The first half of 2021 recorded larger deal sizes and total deal value compared to 2020 and 2019. Healthy businesses are commanding strong multiples and capital is abundant. Many firms are looking to expand their asset portfolio to bolster their competitive position while others plan to enter new markets.
Global M&A Deal Value & Volume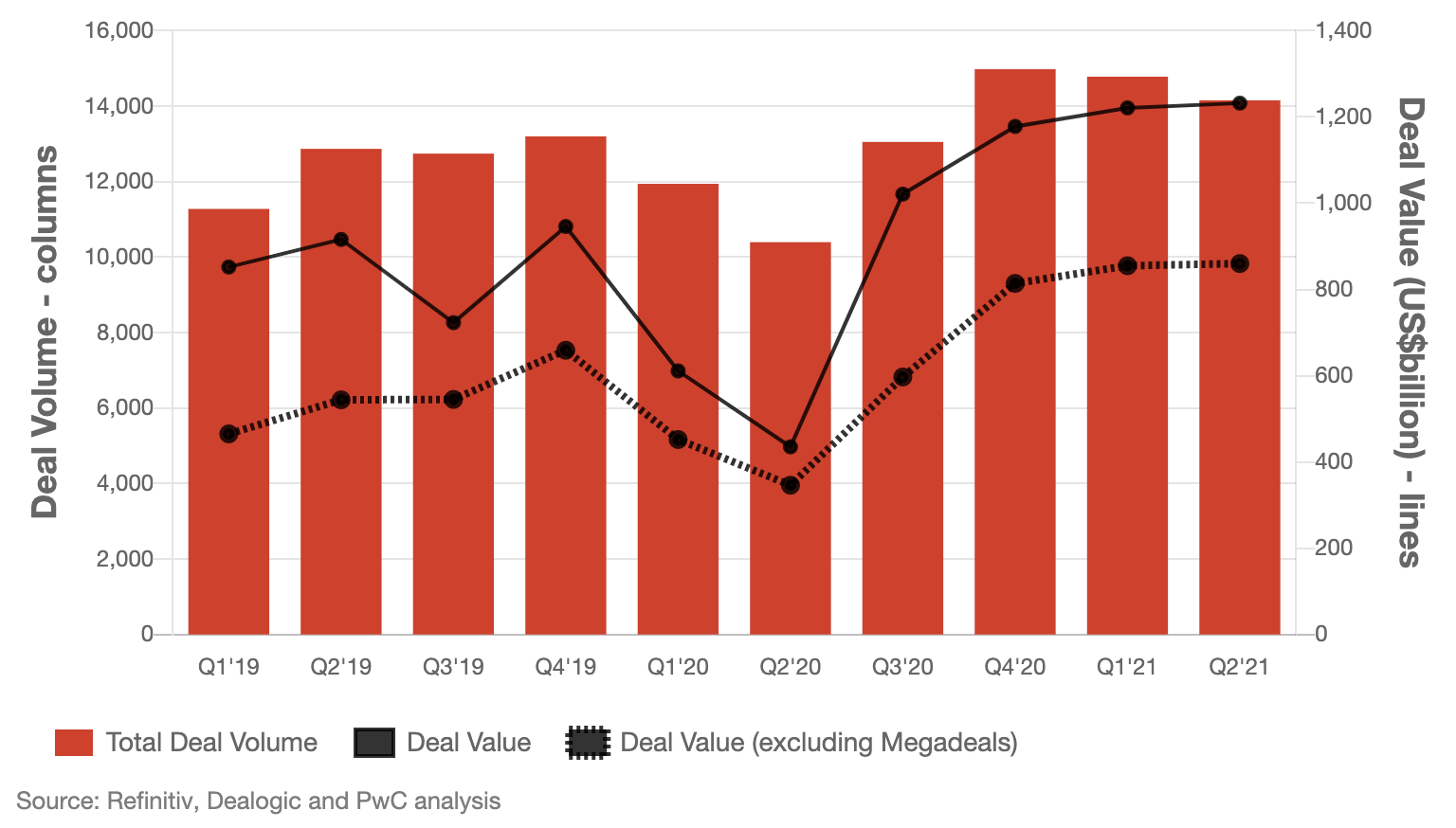 Wind Operations
Deutsche Windtechnik expands to the panhandle of Texas by acquiring Cooke Power Services a service company for local wind farm equipment.
Deutsche Windtechnik US will address the biggest challenge facing renewable industry today: Finding experienced technicians. The acquisition also includes existing customer contracts, including 50 MW of Mitsubishi (MHI) wind turbines under long term service agreements. All 38 employees of this section will join Deutsche Windtechnik.
Solar Acquisitions
Clearway Energy Inc. bolsters its portfolio of solar assets with a $335 million acquisition of the Utah Solar Portfolio with seven utility-scale solar farms located in Utah.
"The acquisition of the remaining 50% interest in the Utah Solar Portfolio will continue the company's successful track record of executing on third-party transactions to meet our long-term growth objectives," CEO Christopher Sotos said in a prepared statement.
Greenbacker Renewable Energy said it bought Heathlands, a 41 MW utility-scale solar project from Prism Power Partners, LLC. The project is Greenbacker's largest solar asset in Michigan and, according to the Solar Energy Industries Association, would rank as the state's third-largest solar facility.
Carbon Capture
Equipment and service provides like Mitsubishi Heavy, Flour, and solvent vendors will be active in the M&A market over the coming months to win projects and secure positions in the CCS market.
Mitsubishi Heavy commands a 70% global share in carbon-capture plant equipment, according to Nikkei Asia. Many of the current CCS projects are building specialty equipment to specificiation rather than purchasing off-the-shelf commercial equipment.
Inside this Issue
☁️ Caterpillar (CAT) Acquires CarbonPoint Solutions
🔋 Novus Capital Acquires California Energy Storage Startup for $1+ Billion
🔌 Briggs & Stratton acquires energy storage manufacturer SimpliPhi Power
♻️ LG Energy Solution Acquires Former Market Leader NEC Energy Solutions
🌎 Talos Energy (TALO) Acquires CCS Project in Offshore Texas
💰 Energy SPAC Black Mountain Acquisition files for a $200 million IPO
Articles in this issue