Decarbon Daily - PwC State of Climate Tech 2021
Inside this issue
A Sense of Urgency to Deploy Capital
PwC tracks climate tech as an emerging asset class to understand how companies and investors are putting capital to work across sectors. As we start to look back on 2021, climate tech and SPACs will no doubt emerge as the capital themes for the year.
Climate tech now accounts for 14 cents of every venture capital dollar
Source: PwC State of Climate Tech 2021
$60 billion of investment into climate tech startups during H1'21 crushed previous records that were closer to $25 billion. PwC identified 1,600 investors that were active in H1'21 participating in 700 funding rounds.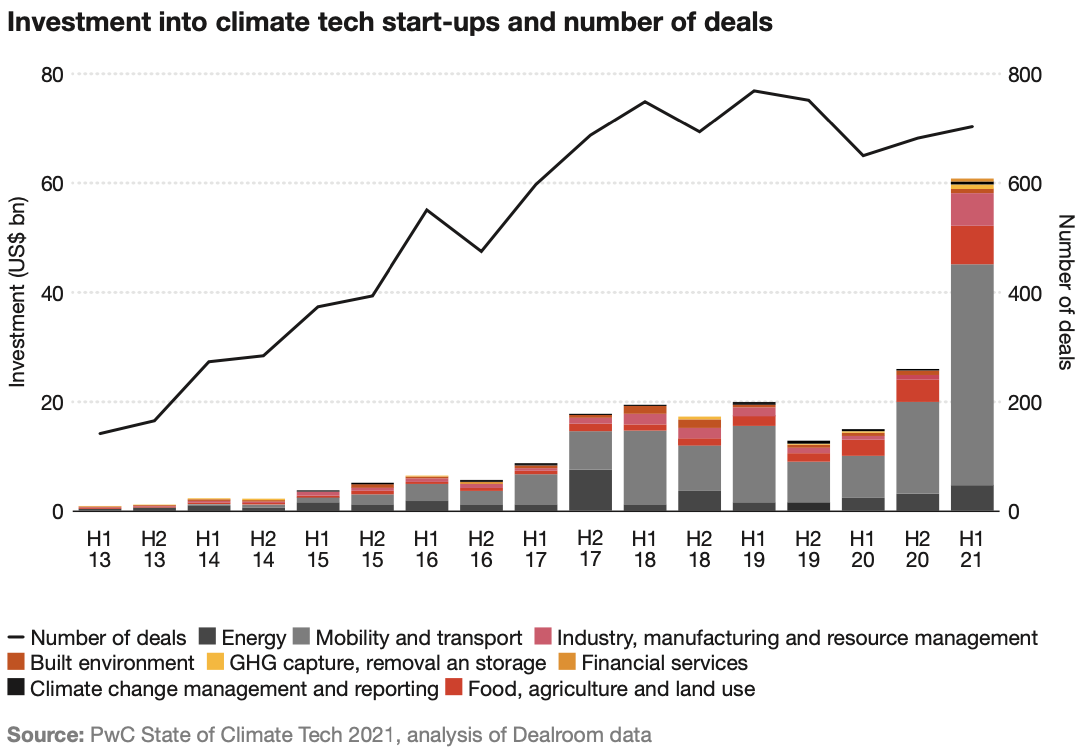 The report takes a broad view of climate tech in the sectors:
1. Mobility and transport. $58 billion or 60% of total climate tech investment goes into the sector including EVs, batteries, e-bikes, charging stations, and fuel cells.
2. Energy. Renewables, nuclear, grid technology, energy storage, and other energy tech captured $8.2 billion up 96% YoY
3. Food, agricultural, and land use. $10.7 billion (132% YoY increase) for vertical farming, value chain GHG reduction, land use, and alternative ag solutions.
4. Industry, manufacturing, and resource use. Waste management, plastics, chemicals, and low carbon materials accounted for $6.9 billion in investment up 266% YoY
5. Built environment. $1.4 billion raised for smart buildings, urban efficiency, and smart devices up 19% YoY
6. Financial services. Investment platforms, retail banking, and other financial solutions increased 260% YoY bringing total invested to $1.2 billion
7. GHG capture, removal, and storage. $338 million was put to work in CCUS and biomass technologies up 27% YoY
8. Climate change management and reporting. Monitoring climate, emissions data, and other reporting solution raised $797 million up 16% YoY
SPACs Bring $25 Billion to Climate Tech
SPACs provided nearly 40% of the funding compared to all other funding types. SEC scrutiny may slow this number down, but there continues to be tremendous deal flow funding for SPACs in climate, energy, transport, and other sectors with SPAC IPOs reaching $200 billion in 2021.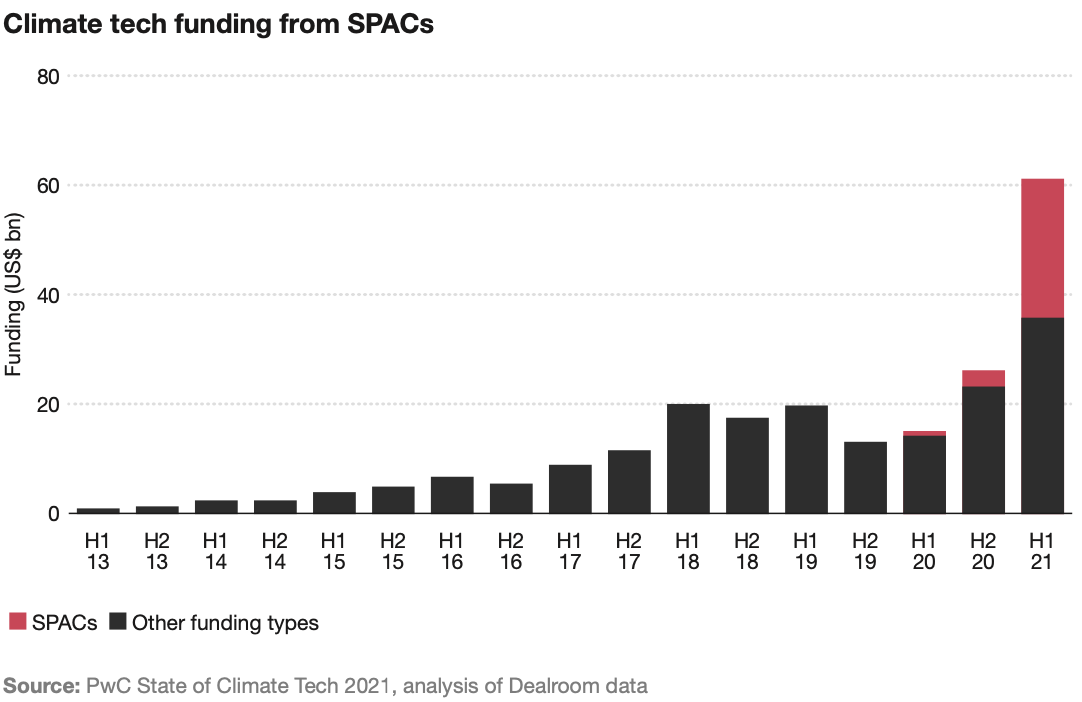 Early Stage Funding Stagnant
There is a tremendous amount of capital for climate tech, yet early stage founders are still struggling to raise capital.
Despite this, the number of early VC, seed and Series A investments has remained largely stagnant since 2018, sitting between 260 and 320 deals in each of those half-years.17 The fundraising success of larger start-ups described earlier reflects the growing maturity of climate tech as an asset class.
Source: PwC State of Climate Tech 2021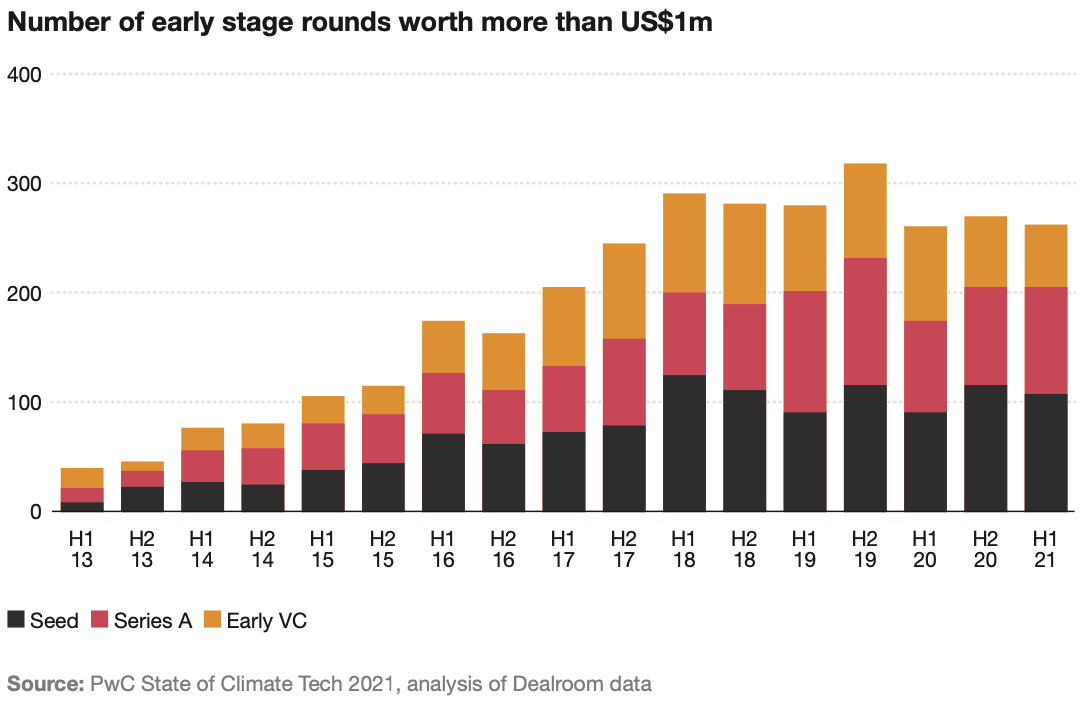 Talking to founders, the problem is even worse than this report demonstrates since early-stage teams often need a small seed stage that is less than $1 million to get started.
Over the last few years, accelerators, incubators, and labs aim to help founders bridge this gap but the challenge remains and often is daunting to early-stage companies.
More patient capital is required to create new infrastructure, new technology, and new business models that will reduce emissions, decarbonize industries, and protect the environment.
Inside this Issue
🪨 Carbon America Closes $30 Million Series A to Launch Carbon Capture Industry's First Vertically Integrated Super Developer
🌲 Mote – World's First Carbon Removal Plant Converting Wood Waste to Hydrogen
📈 EU Leaders Set to Ask for Deeper Monitoring of Carbon Market
🤝 Honeywell, University of Texas partner to scale new carbon capture technology
🏛 Climate provisions in Build Back Better Act will be critical to decarbonize US economy
💰 Chart Industries Acquires Earthly Labs
Articles in this issue