Gulf Coast CCS Projects
Inside this issue
The Gulf Coast regional hub presents excellent opportunities for reducing CO2 and storing it permanently thousands of feet below ground in saline formations or oil & gas reservoirs.
There are hundreds of facilities to decarbonize around Corpus Christi, Houston, Beaumont, Baton Rouge, and New Orleans. Power generation with coal or natural gas, chemical manufacturing, petroleum refineries, ammonia facilities, and cement producers are located along the Gulf Coast.
Select Gulf Coast CCS Project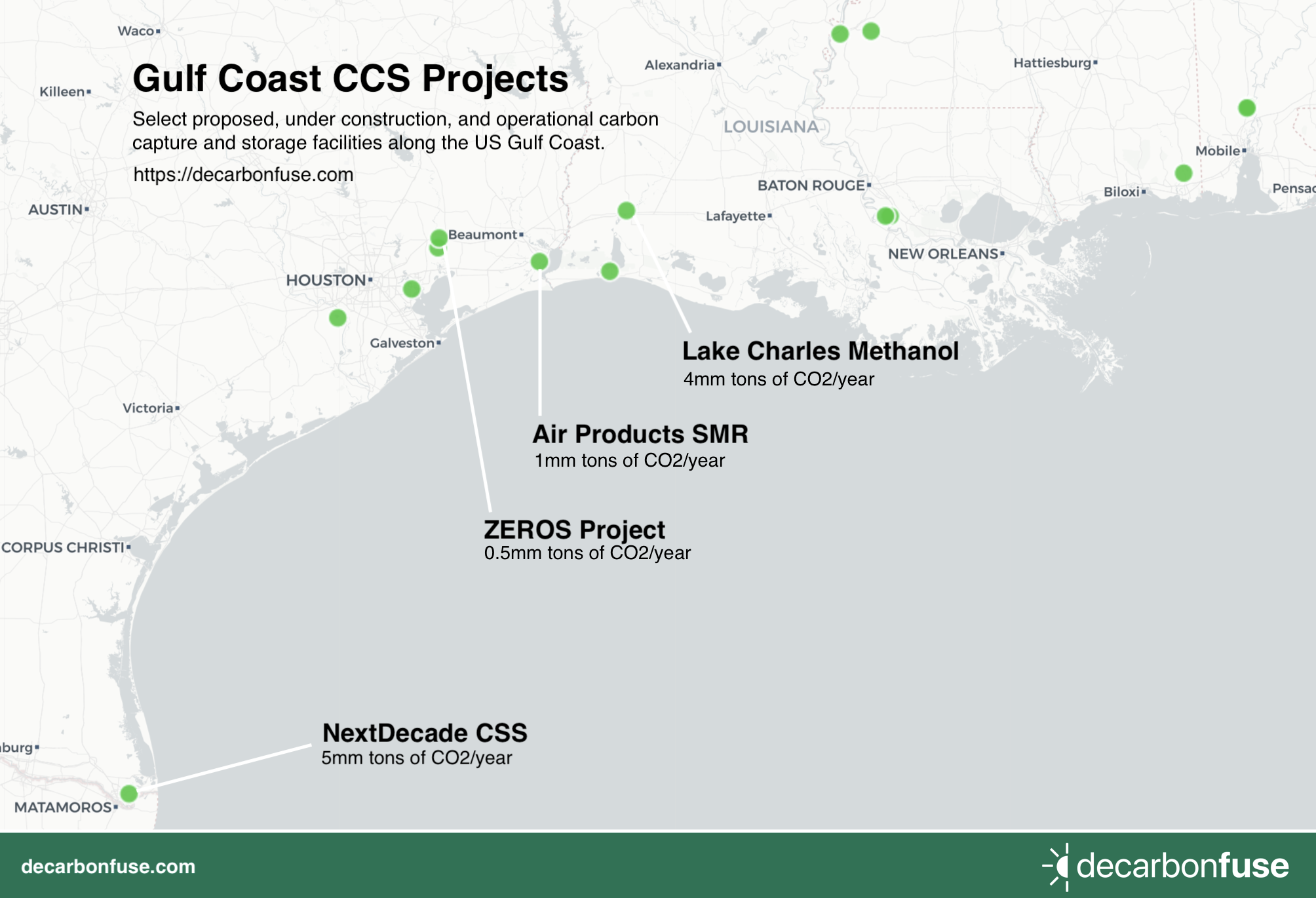 Here are five projects to know:
Lake Charles Methanol facility aims to create zero-carbon Blue Methanol with 90% carbon capture. It is expected to capture about 4 million tons per year.
NextDecade CCS associated with NextDecade's Rio Grande LNG project in the Port of Brownsville. The company plans to capture more than 5 million tons of CO2 per year.
ZEROS Project is under construction near Houston and will be 45Q-eligible
Velocys CCS partnered with Oxy Low Carbon Ventures to transport and store about 0.5 mm tons of CO2 per year. Velocys will produce negative emission sustainable aviation fuel.
G2 Net-Zero LNG project will be 45Q-eligible and according to the company will likely sell the CO2 for enhanced oil recovery projects in Texas and Louisiana.
Interested in seeing more of the data? Contact us to get a sample of the Gulf Coast spreadsheet.
Inside this Issue
💸 Carbon-Transformation Startup LanzaTech is Going Public in $2.2 Billion SPAC Deal
🤝 Microsoft and Constellation Add Transparency to Net Zero with Carbon Accounting Solution
❇️ MENA's Hydrogen Potential: Why Energy Leaders are Uniting at World Hydrogen MENA
🪨 Kern County's Carbon Capture Review Is State's First
💰 One Equity Partners Completes Acquisition of Norit Activated Carbon
🌎 New Data Finds Common Ground in Addressing Climate Resiliency Among Academics and Beltway Professionals
Articles in this issue