Decarbon Daily - Decarbonization Themes Part 1
Inside this issue
This is part 1 in a series that I will publish on Thursdays for the next several weeks. Many of the conversations that I'm having are ultimately asking -- what and who are the winners in ESG and decarbonization?
Decarbonization Themes, Part 1
There are several emerging themes for decarbonization across industries. Here are the top 5 themes I will be covering in detail.
1. Electrification driving rare earth mineral demand
2. Natural gas becoming energy transition fuel
3. Emission reduction and avoidance comes in all shapes and sizes
4. Investors pushing towards climate + energy technology need scale
5. Global oil demand recovers to pre-pandemic levels in 2022, but slower growth thereafter
Are Rare Earth Minerals the ESG Winner?
Batteries for industrial and consumer use require rare earth minerals. There are numerous types of battery technology and most, if not all, require rare earth minerals.
About 65% of rare earth mineral production comes from China as of 2019 data. Substantial investment is taking place in the USA, Australia, and Myanmar to reduce China's stronghold on the market; however, Chinese production capabilities appear to outpace the contenders.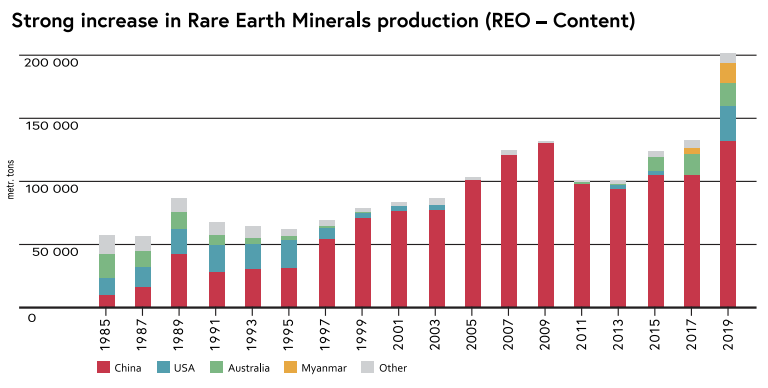 Source: World Mining Data
The industrial use for battery technology is still very early. Last mile logistics commercial fleets will begin adopting EVs in a variety of forms. FedEx, Mercedes, and others have made announcements declaring investments to reduce their emissions.
Mines across the globe are reducing emissions and operating costs by using industrial batteries. Caterpillar and Montréal-based Nouveau Monde Graphite (NMG) are partnering so Caterpillar can fully power NMG's Matawinie graphite mine with all-electric machines by 2028. The Matawinie mine is located north of Montréal and is the first all-electric mine. This week Caterpillar announced another partnership with BHP.
Much of the demand conversation for rare earth minerals centers around EVs. Consumer EV adoption will continue to rise in the coming years with many new alternative vehicle manufacturers coming to market to meet consumer demand. However, industrial demand remains a bit cloudy. There are some early leaders like Caterpillar, Cummins, and Daimler-Benz but the commercial adoption appears to be slower outside of the last-mile logistics industry.
More electrification requires more mines and capital to bring battery technology to market.
Inside this Issue
⛏ Sodium-Ion Batteries May Power Profits Of Manganese Miners
☁️ BHP partners with Caterpillar to develop zero-emission mining trucks
💔 Major miners are missing energy-transition boat, industry veteran warns
🔋 Value of battery metals in new electric cars already beyond 2020 total
📈 Electric vehicle revolution to underpin metals demand
⚡️ Global EV Sales Rose 160% In First Half, Overcoming Component Shortages And Covid
Articles in this issue